Client: Caspeco
Mission/Problem to be solved: The goal was to develop new design for a Log-in screen of Caspeco web app. It should have modern and fresh look and follow Caspcos graphical profile.
My role in the project: UI/UX Designer
Research

Ideation

Sketching and visualisation of design concepts and iterate after feedback sessions with stakeholders.

Documentation of design decisions and process.

Collaboration with developers during implementation.

Cooperation with Product Owner, developers and other stakeholders (e.g. sales) during the project.
Team: Product Owner, UI/UX Designer and Developers.
Sketches/Mockups:
About the Design Concept: Different images are randomly displayed in the background. Image motives are dining and different restaurang environments because the Web application is used by mostly personnel in restaurants.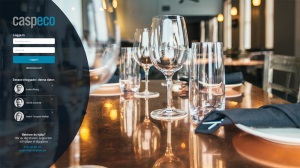 Before and after: